Business Context
• Remus Corporation was established in July 2014 in Hong Kong as the vehicle to drive a New Approach to National Healthcare.
• Remus Corporationʹs management team is made up of 20 experienced Industry Experts in Healthcare, Petroleum, Infrastructure and of Medical Services offering collectively over 400 man years of expertise.
• Remus designed, developed and launched its Flagship healthcare programme ― GNHS in 2017 and received formal Preliminary Presidential Approval from the first developing Nation State in 2017.
• To address the challenges of corruption and fraud Remus established a "New Crypto Currency" called "Remus Coin" in 2017. Access to Money held on Remus Coin is ENCRYPTED and so cannot be accessed by anyone other than the legitimate holder of funds.
• Remus has in addition created a telemedicine application for remote access to healthcare advice for those who cannot reach a city or physical hospital complex. For a fee of just $2/month any individual can access this service called "Remus Health". The healthcare user can only pay for this service using Remus Coin.
The Healthcare Problem
• Based on published data from the IMF and WHO nearly 40% of the worldʹs population does not have access to healthcare as of December 2016, representing circa 3.2 billion people.
• National Governments of Developing Countries do not have the financial and technical resources to provide healthcare to the vast majority of their populations. Only the rich who can pay for healthcare get access in these countries.
• In Africa alone more than 85% of the population, circa 1.2 billion people do not have access to any form of healthcare at all. A child dies in Africa every 3 minutes from Malaria, Typhoid or Cholera, all treatable diseases.
• The problem is growing annually at a rate of 2.5% according to data published by the WHO.
• Political desire to address these challenges is virtually nonexistent in the majority of developing countries.
• The level of healthcare in developing countries has remained at the same level as that seen in the 19th Century, will very little sign of change or improvement.

The Solution ― Remus GNHS Programme
The schematic below shows the mechanics of the GNHS Programme designed by Remus Corporation.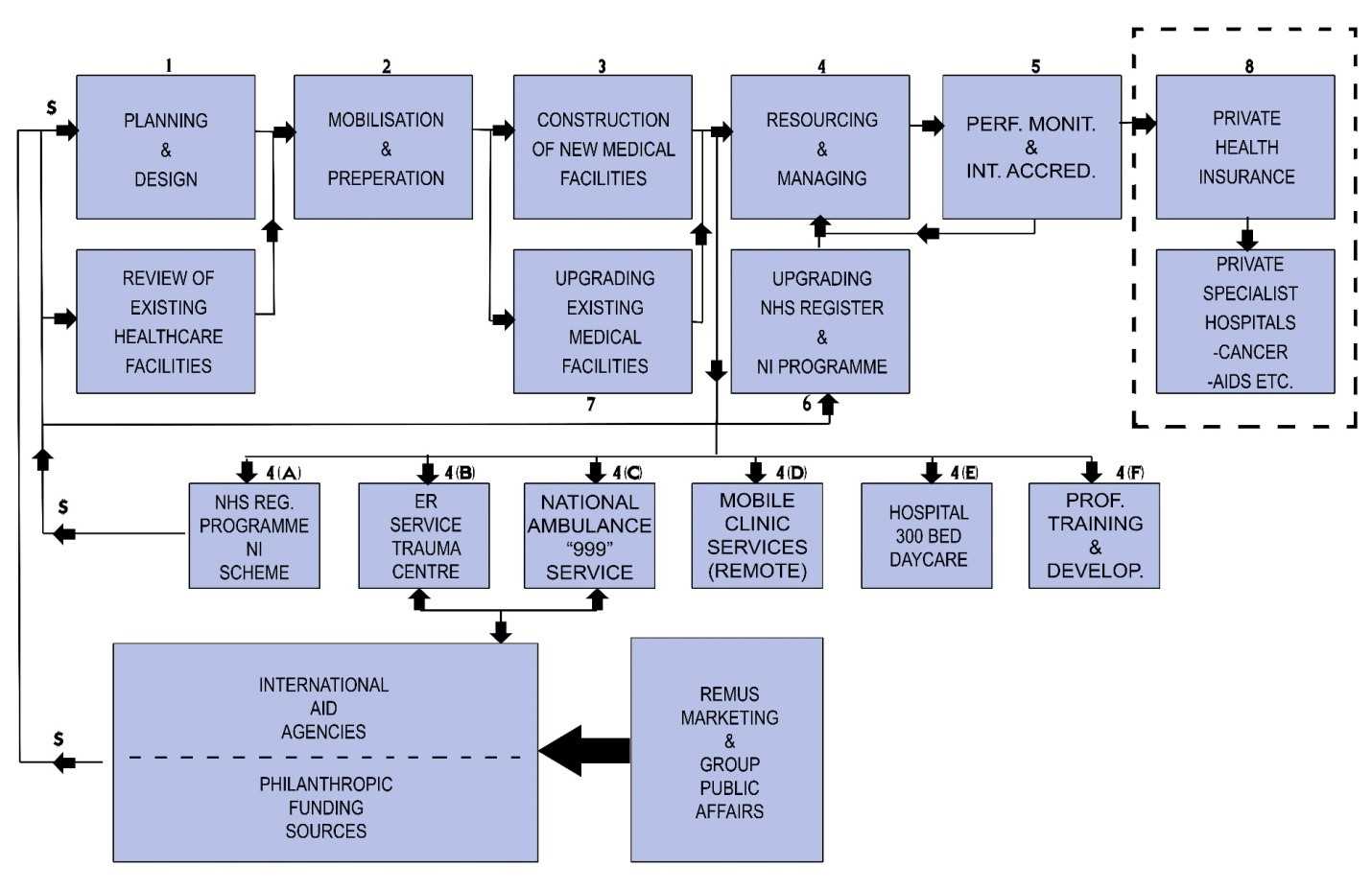 Each "Smart Healthcare City" will serve the needs of a community of up to 1.0million patients per year. Based on the target Nation Stateʹs existing population and forecast growth in population the number of Smart HealthCare Cities deployed will ensure sufficient capacity is built into the GNHS Programme to deal with healthcare needs for the next 50 years in the country concerned.
Remus uses technologies developed in conjunction with BASF for the rapid and efficient deployment of infrastructure capability and structural units. Operating from 5 separate locations in country, 5 Smart Healthcare Cities can be delivered on a turn key basis every 12 months, covering the needs of 5.0 million people in country.
All services provided at the GNHS cities will be paid for SOLELY by Remus Coin. As such the community of Healthcare users of Remus Coin will increase by 5 million users every year in each country of deployment. This provides an inherent "User Base" and the subsequent creation of a "Remus Coin Micro Economy" in the targeted country.
The Work with National Governments
There is absolutely no possibility for National Governments in developing countries to pay for a programme the size and complexity of GNHS. So Remus has developed a "Business Model" which will sustain the funding of the deployment of GNHS. The key elements of the model are as follows:
• National Governments allocate Minerals Concessions, Oil & Non Oil, to Remus Corporation to develop in exchange for receiving the GNHS Programme free.
• The Profits from the development of minerals will be allocated as follows:
- 20% to National Government
- 20% to the running of GNHS post deployment
- 20% will be allocated directly to Remus Coin
- 40% to Remus Corporation
• 5 GNHS Healthcare cities built over 80,000m2 will be deployed each year using Remus ICF technology built in collaboration with BASF.
• Preliminary approval received in Ghana, 15 other countries targeted over the next 20 years.
The diagram below shows the business model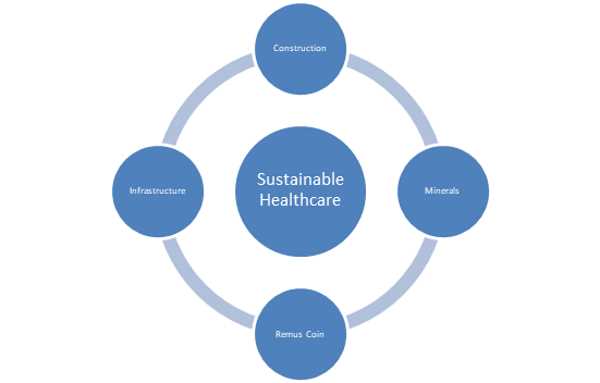 Remus Coin ― Making Healthcare Sustainable for All
The schematic below shows visually the role of Remus Coin in making healthcare accessible for all members of a local population not solely the affluent few.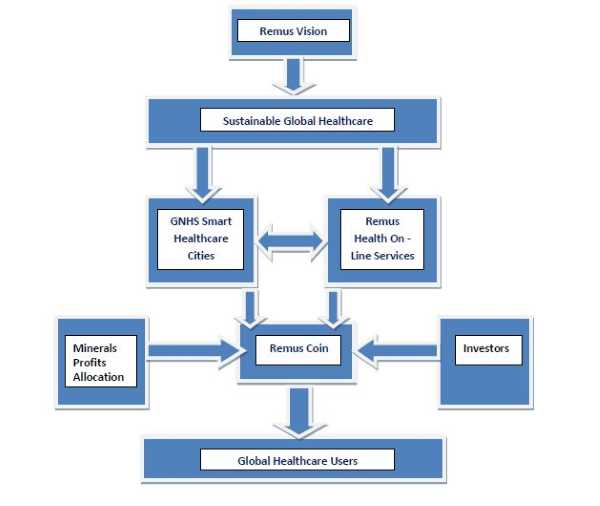 Remus Coin Forecast Growth in Value
The table below gives a view of asset backed growth forecast for Remus Coin for the period 2018 to 2022.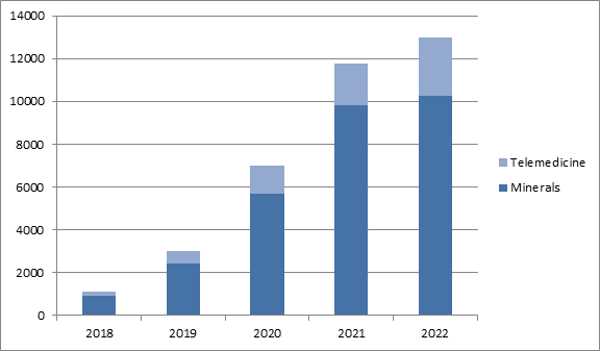 The table below shows the growth in price of Remus Coin forecasted based SOLELY on cash based asset backing for the period 2018 to 2022.